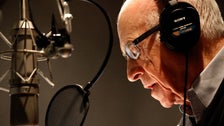 Carl Kasell, whose iconic voice delivered NPR news broadcasts to generations of listeners, died on Tuesday in Potomac, Maryland. He was 84 years old. 
The radio announcer, who most recently delighted audiences as the beloved scorekeeper on the NPR quiz show "Wait Wait… Don't Tell Me!" died of complications from Alzheimer's disease, according to an obituary published by NPR.
We just got the heartbreaking news that our dear friend and Score Keeper Emeritus Carl Kasell has passed away. Carl was warm, funny, caring, and put up with our nonsense with a knowing smile and a wink. In a word, he was a gentleman.

Love you, Carl.https://t.co/robjJI3oGR

— waitwait (@waitwait) April 17, 2018
Kasell joined NPR in 1975 as a part-time employee, eventually rising to become a trusted voice on the nationally syndicated "Morning Edition" news program. He broadcast for the program for over three decades.
But to many, he's most famous for his long-running stint on "Wait Wait… Don't Tell Me!" where his voice was a key prize for contestants: He would record phone messages for the winners. He recorded more than 2,000 personalized voicemails before retiring in 2014 at the age of 80, NPR reported. Listeners can hear some of Kasell's most noteworthy and hilarious messages on NPR's website.
The newsman, who turned into an unexpected comedy star late in his career, previously said that his favorite time at the news organization had been when he worked on the quiz show. 
In honor of his retirement, NPR flipped the script and invited loyal listeners to leave voicemails for Kasell. By the time he stepped away from the mic, he boasted a 50-year career in broadcasting. He was inducted into the National Radio Hall of Fame in 2010.
Peter Sagal, host of "Wait Wait" who worked with Kasell for nearly two decades, spoke of the radio man's humor. "As soon as he had the chance, Carl dropped his serious newsman persona, because what he really was, and really wanted to be, was funny," Sagal said.
"He was, and remains, the heart and soul of our show," Sagal tweeted Tuesday afternoon.
I am extremely sad to tell you all that my dear friend and colleague for 16 years, Carl Kasell has passed away at the age of 84, from complications of Alzheimer's. He was, and remains, the heart and soul of our show.

— ((((Peter Sagal)))) (@petersagal) April 17, 2018
Growing up in Goldsboro, North Carolina, Kasell knew from a young age he wanted to be on the radio, saying sometimes he would hide behind the radio and pretend he was on the air.
At 16, he joined the staff of local radio station WGBR. Later, he enrolled in the University of North Carolina at Chapel Hill. The university said he did not officially graduate before being drafted into the U.S. Army.
Kasell found out he had Alzheimer's disease in 2012, according to The New York Times.
Kasell was married to the former Clara de Zorzi for 37 years until her death in 1997. He married Mary Ann Foster in 2003. Survivors include a son from his first marriage, Joe Kasell of Ashburn, Virginia; a stepson, Brian Foster of Washington; a sister; and four grandchildren.
This story has been updated with additional biographical details on Kasell.